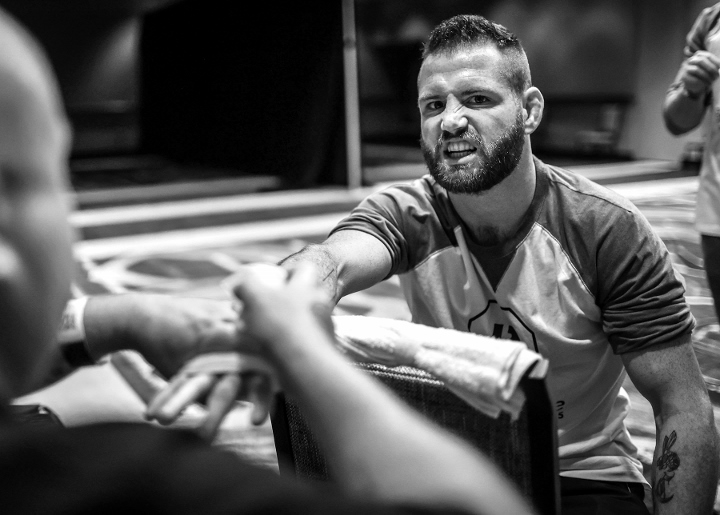 One year after becoming boxing's feel-good story, Clay Collard enjoys success in another sport.
The two-sport spoiler continued his mixed martial arts (MMA) career advances to the playoffs in the 2021 Professional Fighters League (PFL) following a hard-fought split decision win over Germany's Joilton Lutterbach. Collard won their lightweight bout by scores of 29-28 on two scorecards in their ESPN2-televised chief support Thursday evening at Ocean Casino Resort in Atlantic City, New Jersey. Lutterbach won 29-28 on the dissenting card.
Lutterbach—originally from Campina Grande, Brazil but now based out of Dusseldorf, Germany—was ineligible to advance to the playoffs due to coming in three pounds over the PFL lightweight limit during Wednesday's official weigh-in. He put his size advantage to good use in the opening round, forcing Collard to the ground and applying a tight chokehold. Collard was able to work his way out of trouble, though struggling to swing momentum in his favor.
That moment for Collard would come in round two, when he went on the hunt. Lutterbach fought from the outside, looking to set traps and once again force his foe to the ground. Collard made it to his feet and managed a clean kick to Lutterbach's midsection, then putting his boxing skills to use in landing several lefts and straight rights. Lutterbach looked to wrestle, with Collard applying a Kimura armlock to reclaim control of the action.
Collard worked his jab in round three, both in taking the lead and in counterpunching mode. Lutterbach lunged for Collard's knees, only to catch a left and a kick for his troubles. Collard continued to control the action until the final minute when Lutterbach took the lead, pinning down Collard with a leg bar and then slamming him to the deck inside the final 30 seconds for one of his eight takedowns on the night. Collard punched his way out of trouble.
Final stats showed Collard as the far more active of the two, landing 93-of-134 total strikes, including 41-of-44 on the ground. Lutterbach was 52-of-60, including a perfect 13-of-13 leg strikes and 21-of-21 ground strikes along with an 8-0 edge in takedowns.
Collard became the surprise story of 2020, having scored three straight wins over previously unbeaten prospects and ultimately fighting six times in a pandemic-stricken year. The Cinderella story struck midnight in the final fight of 2020, when Collard dropped a competitive but clear eight-round decision to undefeated Quincy LaVallais last December at MGM Grand Conference Center in Las Vegas where he fought for the fourth consecutive time.
The setback was the first of two consecutive losses suffered by Collard, having dropped a six-round decision to unbeaten Nashville-based Cuban prospect Maidel Sando this past February in Shelbyville, Kentucky.
Even with the losing streak, Collard was already on course to return to MMA and compete in the PFL. Such plans were previously in place in 2020, only for the coronavirus pandemic to cancel the season.
Lutterbach falls to 0-2 in 2021 PFL competition, having suffered a three-round decision defeat to Brazil's Raush Manfio this past April. The same show saw Collard claim an upset win over Anthony Pettis, with Thursday's victory advancing his 2021 PFL record to 2-0. Collard is now 20-8 with 13 stoppages overall in MMA, while holding a 9-4-3 record as a boxer.
Collard-Lutterbach served as the chief support to the MMA debut of three-division boxing champion and two-time Olympic Gold medalist Claressa Shields, who faces Brittney Elkin in the main event.
Jake Donovan is a senior writer for BoxingScene.com. Twitter: @JakeNDaBox