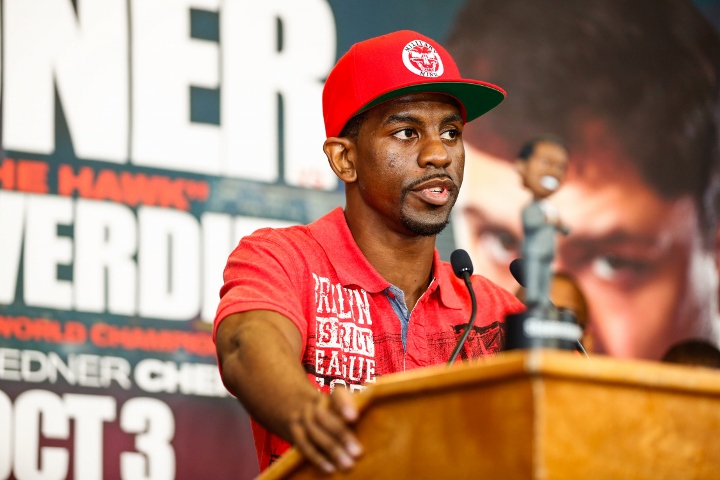 Nothing has or will faze Jamel Herring. He can credit his days as a U.S. Marine and two tours of duty in Iraq during the second Gulf War for that.
Herring's mental strength and ability to overcome obstacles in both boxing and his private life will likely be key factors going into Saturday's clash against Carl Frampton.
The 12-round bout, for Herring's WBO junior lightweight title, will take place at the Caesar's Bluewater Dubai in the United Arab Emirates. ESPN+ will stream the fight (4 p.m. ET/ 1 p.m. PT).
Herring (22-2, 10 knockouts), who is originally from Coram, New York, was originally scheduled to face Frampton on February 27 in London, but the fight was postponed due to Frampton suffering a hand injury during training camp. In his last bout on September 5, Herring won by disqualification in round 8 after opponent Jonathan Oquendo of Puerto Rico had been warned for intentionally head-butting Herring.
Despite the postponement, Herring never let up in wanting to face Frampton.
"I was able to stay focused with all the postponements because I had that motivation and hunger," said Herring at Thursday's press conference. I know this is still a big fight. I didn't want to let it go."
Frampton (28-2, 16 KOs), who resides in Belfast, Northern Ireland, last fought on August 15, stopping Darren Traynor in round 7. The 34-year-old has won his last two bouts since losing to then-IBF featherweight titleholder Josh Warrington in December 2018.
Having won world title belts at 122 and 126 pounds, Frampton is also known for splitting back-to-back fights against Leo Santa Cruz and wins over Scott Quigg, Kiko Martinez, and Nonito Donaire. Despite being the slight favorite going into this fight, Herring understands what a win over Frampton would mean to him.
"Yes, a win over Frampton would be a career-defining milestone," said Herring, who is promoted by Top Rank. "You want to win a world title. OK, we win the world title. Well, what's next? We had to successfully defend our title to be considered a real champion. I'm getting to the conversation of, 'Oh, you want to face the other champions and the other big names,' and Carl Frampton is a two-division world champion. He has done great things in his career.
"Since November 2019, this fight has been talked about, and this is my moment. This is what I've worked for. This is what I've been asking for. This is a big fight for me now."
Herring has successfully defended the WBO title twice since defeating Japan's Masayuki Ito in May 2019. The 35-year-old has won his last six fights since losing to Ladarius Miller in August 2017.
Even as some were quick to write off his career after the loss to Miller, Herring was able to regroup. He has built a strong relationship with WBO welterweight titleholder Terence Crawford and is trained by Brian 'Bomac' McIntyre.
Whether it has been the trench warfare in the sparring or on patrol during his tours as a Marine, Herring gained more mental strength of being able to overcome obstacles.
"I don't have any doubts with the fight happening in Dubai because I'm a U.S. Marine," said Herring. "I've fought everywhere, in terms of the battlefield or in the ring. If you guys remember, I was willing to face him in Belfast with no issue, in front of thousands of people. I was willing to give him that home field advantage because I wanted the fight that bad that I didn't really care where the fight was at. As long as we had a ring and some gloves, I didn't care."
A convincing win could push Herring closer to the top spot at 130 pounds. There is still the possibility of facing mandatory challenger Shakur Stevenson or possible unification fights against newly-crowned WBC titleholder Oscar Valdez or IBF titleholder Joseph 'JoJo' Diaz, but Herring believes he will still have to prove himself, which is fine by him.
"The way I win this fight is just being me, the Jamel that won the world championship. I have to bring that hunger back. I feel like my back is against the wall, even as the champion.
"I know a win will obviously push my career up, and I'm just excited to finally get in there with another good champion that I can topple, hopefully, this weekend."
Francisco A. Salazar has written for BoxingScene since September of 2012 and has covered boxing in Southern California and abroad since 2000. Francisco also covers boxing for the Ventura County (Calif.) Star newspaper. He can be reached by email at santio89@yahoo.com or on Twitter at FSalazarBoxing.