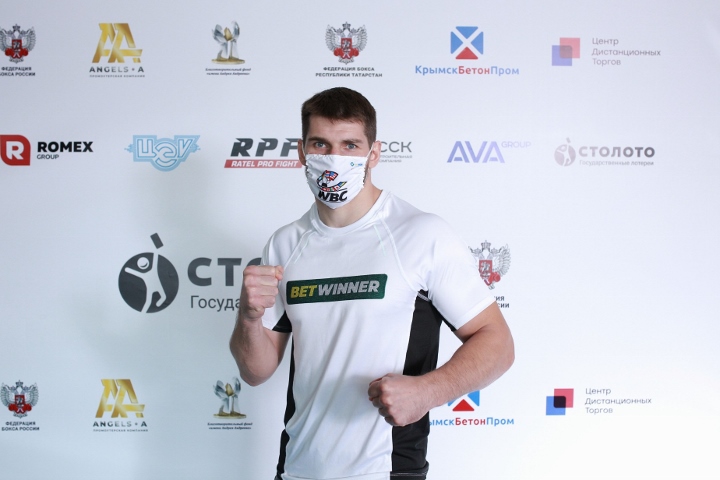 Moscow, Russia – WBC #2/WBO #8 cruiserweight Alexey Papin stayed busy with the first-round blowout of the Czech import Vaclav Pejsar (15-11, 13 KOs) in the main event of a huge boxing card, co-promoted by the World of Boxing and Shamo Boxing at the legendary Krylia Sovetov arena in Moscow, Russia.
The fight had history. In December 2019, an almost unknown Czech fighter delivered a sound beating to feared Russian kayo artist and Papin's teammate Dmitry Kudryashov… only to lose on a very questionable split decision, marked by some to be the worst decision of 2019. Several fights after, and Pejsar was fighting Papin, who was eager to avenge his friend's loss.
The bout itself was an easy task for the WBC mandatory challenger. His punches produced an effect on Pejsar from the opening bell. Finally, a huge right hand to the whiskers put Pejsar down. After a long count, issued by referee (and former amateur world champion) Andrey Kurnyavka, which made the Dempsey vs. Tunney long count seem a bit shorter, Pejsar, 36, was able to go on but soon found himself down one more time. At 2:10 of the first, Kurnyavka waved it off.
Papin, 33, is now 13-1, 12 KOs.
—————————
Kureysh Sagov, the Ingush fighter from Siberia, acquired a vacant Russian national cruiserweight title with a solid win over previously undefeated but untested Ossetian Khetag Mouraov in a ten-rounder.
Sagov repelled Mouraov's aggression with smart, subtle moves that forced the Ossetian to miss frequently. Sagov, on the other hand, was countering Mouraov well and forced him to retreat at times. Sagov, 29, also sliced Mouraov's left eyebrow. Final scores were: 99-91, 98-92 and 96-94 – for Kureysh Sagov (5-1, 2 KOs). Mouraov's record is now almost identical at 5-1, 4 KOs.