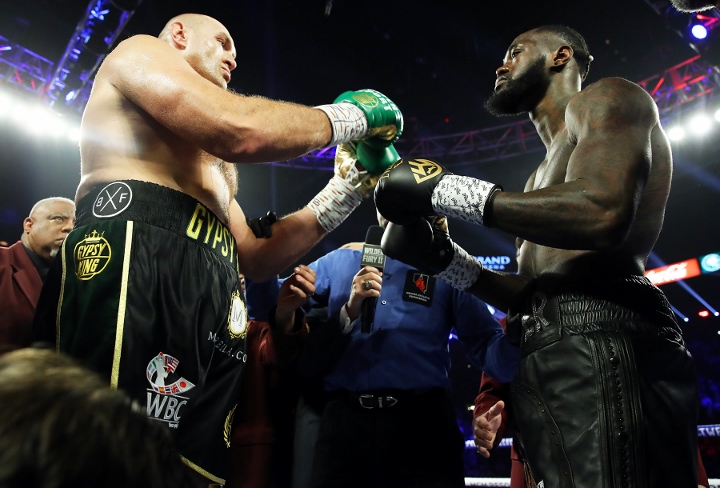 Top Rank's CEO Bob Arum, who co-promotes WBC heavyweight champion Tyson Fury, is expecting a decision on the Deontay Wilder legal rift to get issued in the month of May.
Fury captured the WBC title in February 2020 with a seven round stoppage of Wilder.
After the fight, Wilder exercised an immediate rematch clause.
The trilogy fight was postponed several times – due to the coronavirus pandemic and other factors.
In the final quarter of 2020, Fury and his handlers openly declared that Wilder's rematch clause had expired.
Fury is now engaged in a deal to face Anthony Joshua in a high stakes unification in June or July.
On the other hand, Wilder began a legal action to enforce his rematch clause with Fury.
Arum confirms that Wilder's legal action will not prevent a Fury-Joshua clash from taking place.
However, Wilder could be awarded damages if the arbitrator rules in his favor.
"That [issue with Wilder] is in arbitration, and the arbitrator will decide," Arum told Barbershop Conversations.
"No, [the legal action will not prevent Fury-Joshua]. Really and truly, nobody anticipates that there'll be an injunction. At worst, there might be a claim for damages. I think it was scheduled that we'd finally get a determination sometime in May. I can't go into that."
Eddie Hearn, who co-promotes Joshua, would like to get Wilder in the ring with Dillian Whyte.
"We called for the Deontay Wilder fight for a long, long time. [Wilder] actually DM'd Dillian Whyte and said I will never, ever give you that fight. And now he got knocked out and he's calling for the fight with Dillian Whyte. For me that's a stadium fight, that's a colossal fight. I'd like to get him back out quickly, maybe to the States for a big fight," Hearn said.