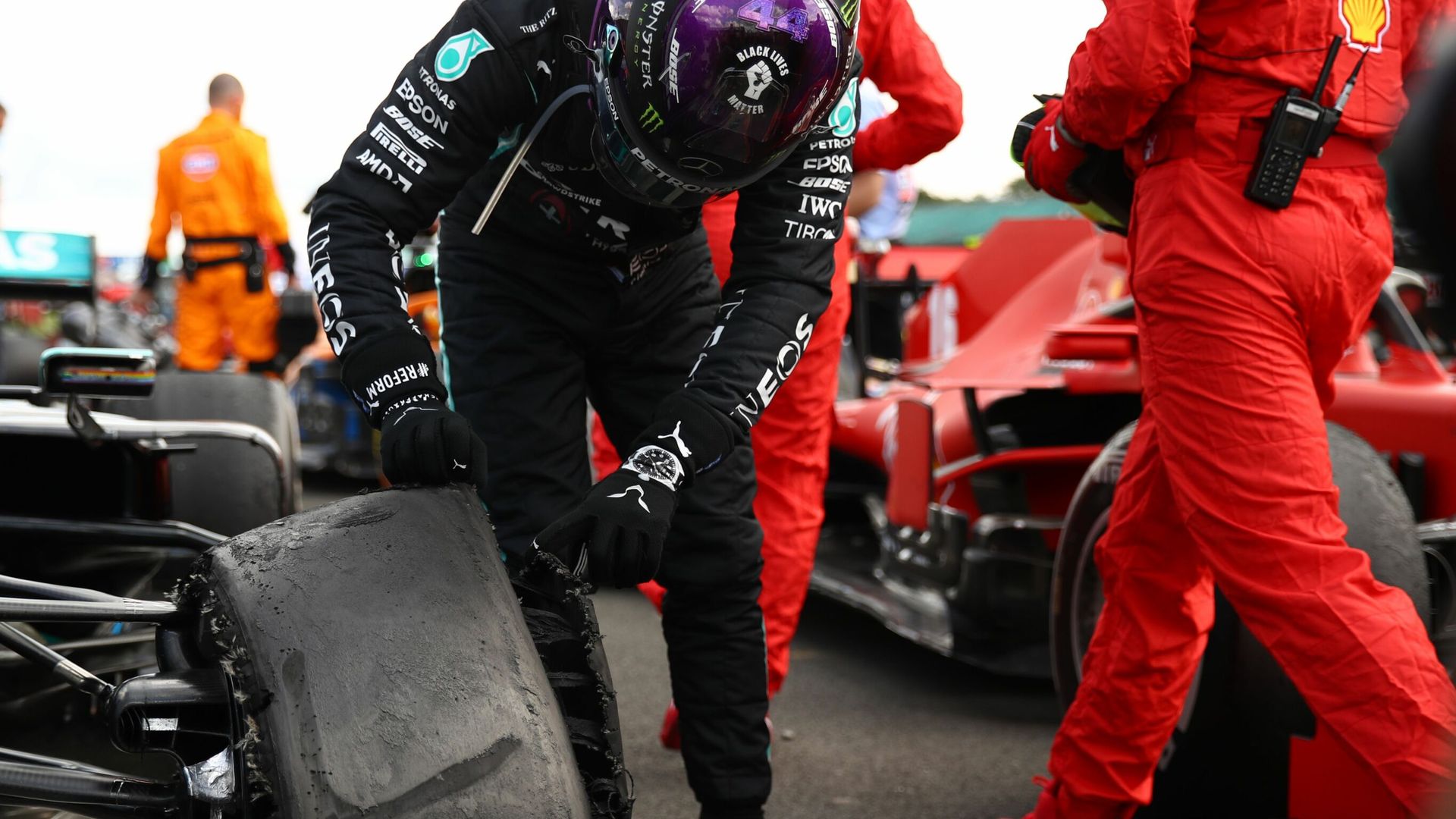 An incredible finish as Hamilton crosses the line with a puncture while Bottas drops out of the points entirely; Hamilton 30 points clear in standings; Verstappen nearly beat Hamilton; Leclerc third
By Matt Morlidge
Last Updated: 02/08/20 4:19pm
Lewis Hamilton limped across the line for a dramatic British GP victory ahead of Max Verstappen after a remarkable finish to the race saw both dominant Mercedes suffer punctures in the closing stages.
Mercedes were in a league of their own before the last three laps of F1's Silverstone homecoming but Valtteri Bottas' tyre blow-up was followed by race leader Hamilton's on the final lap and, in extraordinary scenes, the home favourite only just managed to drive his car across the finishing line.
Hamilton lost so much time that Red Bull, distant third for the majority of the race, will actually be ruing an opportunity missed after pitting Verstappen late on to get the fastest lap.
If they hadn't have done so, Verstappen – who finished only five seconds behind Hamilton at the chequered flag – would likely have had the most surprising of wins.
"I've definitely never experienced anything like that on the last lap, my heart nearly stopped," said Hamilton. "I was just praying to get around and not be too slow. I nearly didn't get around the last few corners."
In another boost to Hamilton, Bottas' puncture and forced pit-stop dropped him out of the top-10 entirely – meaning the Englishman now has a potentially crucial 30-point lead in the F1 2020 championship.
"It's of course very disappointing, and unlucky," admitted a downbeat Bottas.
Hamilton also has a seventh Silverstone victory, and is just four wins off Michael Schumacher's all-time record of 91.
Charles Leclerc finished an admirable third for Ferrari – his second podium of the season – after the late drama. And Mercedes weren't the only team who provided it.
McLaren also suffered a late puncture with Carlos Sainz, who was running fifth for most of the race, following Bottas outside the points. That lifted Daniel Ricciardo in the Renault up to fourth, and Lando Norris to fifth.
Esteban Ocon and Pierre Gasly also benefitted, while Alex Albon managed to finish eighth despite causing a collision for the first of two Safety Cars in the race, being handed a five-second penalty, and pitting twice.
British GP results, top-10
1. Lewis Hamilton, Mercedes
2. Max Verstappen, Red Bull
3. Charles Leclerc, Ferrari
4. Daniel Ricciardo, Renault
5. Lando Norris, McLaren
6. Esteban Ocon, Renault
7. Pierre Gasly, AlphaTauri
8. Alex Albon, Red Bull
9. Lance Stroll, Racing Point
10. Sebastian Vettel, Ferrari
More to follow…